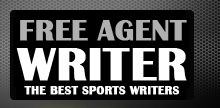 Yankee Addicts
Categories
Featured Sponsors
News published by
December 29, 2010
Every year the Pro Bowl rosters come out and every year we absolutely love to complain about the players that didn't make it and should have. All in all, the rosters ...
December 29, 2010
On the first NFL game on Tuesday night since 1946, Michael Vick took center stage and blew his shot at impressing voters. With a big win he had a chance ...
December 29, 2010
Week 16 in the NFL was filled with surprises. Perhaps nothing was stranger than watching the Minnesota Vikings and Philadelphia Eagles play on Tuesday night, the first Tuesday game since 1946. ...
December 28, 2010
Donovan McNabb may have recently signed a contract extension with the Washington Redskins, but it's becoming increasingly likely that he won't be wearing burgundy and gold in 2011. Now ...
December 21, 2010
Tim Tebow made his first start in the NFL, but the Denver Broncos lost despite his presence. The New England Patriots and Atlanta Falcons won again to maintain their leads in ...
December 16, 2010
It's Week 15 now which means that more and more questions will be answered as teams find out whether or not they'll have a shot at the playoffs. The two games ...
December 14, 2010
As we inch ever closer to the NFL Playoffs, upsets and playoff berths are the primary things on the collective minds of most NFL teams. We have some huge divisional games ...
December 14, 2010
Week 14 in the NFL saw the roof fall down on the Minnesota Vikings, Michael Vick escape with a win, Peyton Manning rebound and more. The NFC West got even crazier ...
December 9, 2010
We're coming to the home stretch of the NFL season now that it's Week 14. The playoff races are being decided slowly but surely, as teams prove that they're either contenders ...
December 8, 2010
As parity abounds in the NFL this season, there are always chances for upsets. Injuries can occur, players can have career days, the officials could blow a call or something else ...