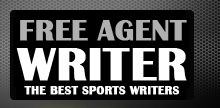 Yankee Addicts
Categories
Featured Sponsors
News published by
March 11, 2011
For the record, let me state that I am not a scout, former player or someone with any experience when it comes to scouting players. Last year, I said that ...
April 26, 2010
The Chicago Bears' 2009 draft, which was depleted after trading for Jay Cutler, made little to no noise in its first season, outside of Johnny Knox. Jarron Gilbert and Henry ...
April 1, 2010
In conjunction with my article where I had the 8 most overvalued players, I decided to also make a list of the 8 most undervalued players in the upcoming draft. When ...
March 29, 2010
Every draft season, there are players who will be overvalued when it comes to the draft. Odds are these guys have outstanding physical skill sets or play at a premium position. ...
March 26, 2010
The biggest news this offseason for the Bears was signing free agent Julius Peppers to a monster deal. The signing will give Bears flexibility on the defensive front. They also released Adewale ...