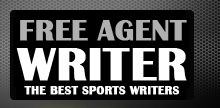 Yankee Addicts
Categories
Featured Sponsors
News published by
April 13, 2011
The Green Bay Packers have the chance to build a dynasty.After winning the Super Bowl last season, they will return starters Ryan Grant, Jermichael Finley and Nick Barnett, as well ...
April 10, 2011
The NFL Draft has been an annual occurrence since 1936.With all that history, it's no surprise that there have been plenty of interesting storylines that have come from past drafts.There ...
April 7, 2011
The 2011 NFL Draft is right around the corner.That being said, not a lot has been decided.In previous years, the No. 1 pick has been decided well in advance of ...
April 6, 2011
The NFL Draft never goes the way the experts predict it will.There's always someone who gets drafted too high and someone who gets drafted too low.Some teams change their draft ...
April 4, 2011
Nnamdi Asomugha will be the hottest free agent commodity in the 2011 NFL Free Agency period.The only question is, when will that period start?With the lockout, free agents are basically ...
March 22, 2011
There are two quarterbacks that every team in need of a quarterback wants: Auburn's Cam Newton and Missouri's Blaine Gabbert.However, there are more than two teams that need quarterbacks in ...
March 17, 2011
Da'Quan Bowers is the cream of the crop when it comes to pass rushers.But, he might not be around when it's your favorite team's turn to pick in the first ...
March 11, 2011
In his latest mock draft, ESPN draft analyst Mel Kiper Jr., has Missouri quarterback Blaine Gabbert going to the Carolina Panthers with the No. 1 overall pick in the 2011 ...
March 8, 2011
Cam Newton and Tim Tebow are similar in a lot of ways.They both went to SEC schools (Auburn and Florida, respectively).They both won BCS national championship games.They both won the ...
February 7, 2011
Wow. What a game for the Green Bay Packers. They lost Donald Driver and Charles Woodson to injuries in the first half and still managed to beat Ben Roethlisberger, Troy ...