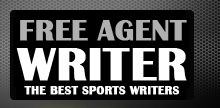 Yankee Addicts
Categories
Featured Sponsors
News published by
January 16, 2011
The Green Bay Packers went into Atlanta and destroyed the Falcons on Saturday night.Aaron Rodgers and company, the No. 6 seed in the NFC, beat the No. 1 seed by ...
December 27, 2010
The San Francisco 49ers decided on Sunday that they wouldn't even let head coach Mike Singletary keep his job for the last week of the regular season.For the Niners last ...
December 24, 2010
Tom Brady and the New England Patriots are going to get the No. 1 seed in the AFC and Matt Ryan and the Atlanta Falcons will be the No. 1 ...
December 20, 2010
With the NFL regular season winding down, the New England Patriots have all but clinched the top spot in the AFC playoffs.But Patriots quarterback Tom Brady is involved in a ...
December 16, 2010
Week 14 featured a lot of horrible fantasy days from several key players.For instance, two of my fantasy teams are now out of the playoffs because of Aaron Rodgers' concussion ...
December 14, 2010
In a 7-3 loss to the Detroit Lions (yes, the Detroit Lions) on Sunday, Aaron Rodgers sustained his second concussion of the season late in the second quarter.He was not ...
December 13, 2010
The Dallas Cowboys have been playing well under new head coach Jason Garrett. The team is 3-2 since he took over for Wade Phillips, but there is still room for improvement. ...
December 6, 2010
Peyton Manning has thrown 11 interceptions in the last three weeks, all games the Indianapolis Colts lost. That statement is strange for two reasons. First of all, Manning has been one ...
December 4, 2010
Peyton Manning and the Indianapolis Colts have struggled this year, but their struggles pale in comparison to the struggles of the Dallas Cowboys.The Cowboys have already made a coaching change ...
December 3, 2010
The Houston Texans started off the 2010 season with a 4-2 record and seemed to be a strong playoff contender, featuring a high-powered offense of quarterback Matt Schaub, running back ...