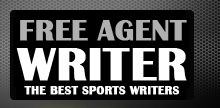 Yankee Addicts
Categories
Featured Sponsors
News published by
November 29, 2010
Late in the fourth quarter of the Houston Texans 20-0 victory over the Tennessee Titans, Texans wide receiver Andre Johnson and Titans cornerback Cortland Finnegan went after each other. Helmets were ...
November 27, 2010
On Monday Night Football in week 12, the 3-7 San Francisco 49ers travel to Arizona to take on the 3-7 Cardinals.On the surface, this looks like a horrible game, one ...
November 27, 2010
When the Green Bay Packers hit the road to take on the Atlanta Falcons this weekend, it will be a showcase of two of the best teams in the NFC.The ...
November 17, 2010
The Dallas Cowboys showed some immediate improvement after Wade Phillips was fired. Interim head coach Jason Garrett seemed to have his team motivated and ready to play. If he can ...
November 11, 2010
Matt Hasselbeck is getting old; there's no denying that. And, we all saw on Sunday that Charlie Whitehurst is not the long-term—or even short-term—answer at the position.Unless the Seahawks decide ...
November 8, 2010
Peyton Hillis is becoming a very solid running back for the Cleveland Browns. He's posting strong numbers every week and is a major reason the Browns have beaten the New Orleans ...
November 8, 2010
Week 9 in the 2010 NFL season featured several blowouts, like the Cleveland Browns surprising the New England Patriots, the New York Giants demolishing the Seattle Seahawks and the Green ...
November 3, 2010
Last week was a banner week for Matthew Stafford and my fantasy football predictions.Matthew Stafford, my pick to start at QB, had a huge week, putting up 24 points, while ...
November 1, 2010
2010 has been a really rough year for Brett Favre.  Whether it has been his play on the field or scandals off of it, not a lot has gone right ...
October 25, 2010
Week 7 in the NFL was a wild one, from Kenny Britt to Brett Favre to the Carolina Panthers.  It was a week in which the Denver Broncos were pounded ...