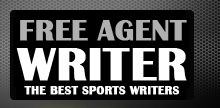 Yankee Addicts
Categories
Featured Sponsors
News published by
January 29, 2011
Only eight days, Steeler Nation. Eight days until the Lombardi Trophy comes back to Pittsburgh. I know the Packers are the favorites to win, but the Steelers will not be ...
January 17, 2011
Nobody gave the Jets a chance. The Patriots had blown them out 45-3 in their previous meeting and were considered by most to be unbeatable. During the week leading up to ...
November 29, 2010
Does anyone else besides me have heart failure right now? This game was way too close. After taking a 13-0 lead at the half, the Steelers allowed the Buffalo Bills ...
October 18, 2010
What a difference a quarterback makes! Big Ben, seeing his first regular season action since January, came out and led the Pittsburgh Steelers to a 28-10 victory over their rival ...
October 3, 2010
So close and yet so far. The Steelers had every chance to win Sunday's game against the Ravens. However, costly penalties throughout the game kept them from improving to a perfect 4-0 record. ...
September 27, 2010
3-0! 3-0! 3-0!  Who would have thought this is where the Steelers would be after three weeks of football? Well believe it people, because the Steelers stayed undefeated by knocking down the previously undefeated ...
September 6, 2010
As expected, Dennis Dixon will be the starting quarterback on Sunday when the Steelers play the Falcons. Mike Tomlin announced this in his press conference today. http://www.nfl.com/videos/pittsburgh-steelers/09000d5d81a505af/Dixon-to-start?module=HP_headlines It was only a matter ...
August 25, 2010
It's almost time for the regular season to start. Around this time people are making predictions about their team, other teams, and certain players. I've made my share and now ...
June 6, 2010
The NFL Network just did their Top 10 rivalries of all time. Just like my home field advantages article, I'm breaking my list down to five and most current. There have ...
May 27, 2010
Nowadays, if you read an article about Ben Roethlisberger, it's usually about his incident in Georgia. The article will usually be negative. However, this is not the Big Ben that ...