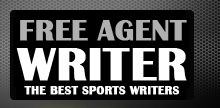 Yankee Addicts
Categories
Featured Sponsors
News published by
March 30, 2016
The NFL never sleeps. We might have cooled on the free-agent front, but there is still plenty going on around the league. The NFL draft is around the corner, and ...
March 28, 2016
For the second consecutive offseason, Nick Fairley became a free-agent bargain. According to Ian Rapoport of NFL Media, Fairley has signed with the New Orleans Saints: Despite his pass-rushing prowess in the ...
March 28, 2016
The NFL salary cap ballooned yet again this year, and with that came another deluge of money and huge contracts.  Some of those deals were merited, while others dropped jaws. But ...
March 24, 2016
Tectonic plates have shifted quickly in the NFL, as they do every year during free agency. The results mean a dramatically altered landscape, especially in the fantasy football realm.  Some players ...
March 21, 2016
When the free-agent frenzy dies down, it's not just the frequency of player signings that slow down—contract negotiations slow to a crawl, it seems, as teams begin to pinch pennies ...
March 19, 2016
We have cooled to a simmer on the NFL free-agent market, many of the impact players available having exited the market by way of a new contract. But there are ...
March 17, 2016
The fires of NFL free agency have died down after a fierce first week, but the embers still glow. There are plenty of free agents left on the market; they just ...
March 15, 2016
The first week of NFL free agency is always a frenzy. Huge contracts fly around, players make bold and sometimes perplexing moves, and teams drastically change their rosters in an ...
March 7, 2016
We are on the cusp of NFL free agency. The franchise tags are set, the rumors are flying and the money will be flowing soon. The action will be dizzying, and ...
March 3, 2016
Plenty of names are hitting free agency at the tight end position. Even a future Hall of Famer is set to hit the market as of this writing. As far as ...