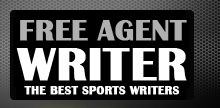 Yankee Addicts
Categories
Featured Sponsors
News published by
May 6, 2014
There is no shortage of rumors surrounding the NFL draft, with many of them concerning potential moves by a variety of franchises looking to jockey for better position this week. Some ...
May 3, 2014
The 2014 NFL draft is nearly here, and it is definitely time for fans to start figuring out how to watch the event to soak in all the action in ...
April 26, 2014
The 2014 NFL draft is highlighted by a handful of prospects who have been receiving relentless media coverage and tons of buzz ahead of their leap from college to the ...
April 26, 2014
There are so many great prospects at just about every position in the 2014 NFL draft class, so teams are going to be facing some interesting dilemmas this spring—especially in ...
February 2, 2014
Unsurprisingly, Peyton Manning has just been named the Most Valuable Player for the 2013 NFL campaign, per CBS Sports' Will Brinson. He was the favorite to lock it up since ...
January 18, 2014
The 2014 NFL draft may not be until May, but it's one of the few things that fans of 28 teams in the NFL have to look forward to right ...
January 18, 2014
The 2014 NFL playoffs are reaching an endpoint, but there are still three great games left on tap before the conclusion of the campaign. The postseason has been nothing short of ...
January 14, 2014
The 2014 Super Bowl is just around the corner, but first the AFC and NFC Championship Games must be played to determine the participants. With the NFL's version of the Final ...
January 5, 2014
Sammy Watkins, one of the top wide receivers in college football, reportedly will leave Clemson and declare himself eligible for the 2014 NFL draft. Yahoo! Sports' Rand Getlin had the news: #Clemson ...
December 28, 2013
The 2014 NFL Pro Bowl rosters were revealed on Dec. 27 and, as expected, there was no shortage of controversy. While the nixing of the conference requirements—there will be no AFC ...