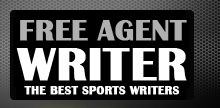 Yankee Addicts
Categories
Featured Sponsors
News published by
September 30, 2010
Many Broncos' fans were clamoring for a defense-minded coach after Shanahan was fired. We were all surprised by the hiring of Patriots' offensive coordinator McDaniels. But after two years, it ...
July 31, 2010
Two starting points for this very short article. First, this article is based on the 2009 BCS National Championship game between Oklahoma and Florida. This game is the focus because the full ...
July 1, 2010
Much of the media has seemingly determined that the Denver Broncos will do worse in 2010 than 2009.   The primary reason for this seems to be that most "experts" believe ...
July 1, 2010
  There is an idea running around that the head coach of the Denver Broncos, Josh Mcdaniels, has bet his entire career on Tim Tebow's eventual NFL production. However, that doesn't ...
May 21, 2010
It seems that this time of year is a time of hope for all 31 teams that aren't the reigning Superbowl champs. Fans all over the country are thinking that ...