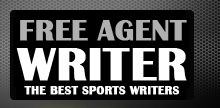 Yankee Addicts
Categories
Featured Sponsors
News published by
July 8, 2014
Prepare your arguing devices! The NFL is a shifting landscape, but there are a few things you can always depend on. Jerry Jones will always be the sounding board for ideas the ...
May 27, 2014
There are a lot of teams set at quarterback. Most of them are, not shockingly, the best and most successful teams. We won't be touching on them. Again, not surprisingly, the teams ...
May 20, 2014
This year saw a record 95 underclassmen declare for the NFL draft, per AL.com's Mike Herndon, and to nobody's surprise, many were left looking for work post-draft. There has been a lot of ...
April 29, 2014
"Controversial" is a relative term. We like to think of it as "things we disagree on vehemently" here at Bleacher Report. It cuts down on chair throwing. Nothing brings out the disagreements ...
March 15, 2014
The first week of free agency has wrapped up, and it was certainly everything we were promised. Sudden cuts, surprise signings and drama by the bucketful were all over this week's ...
July 20, 2013
Training camps are about to kick off, and we'll soon be getting ready for one of the most important parts of our football season. No, not Week 1—fantasy football drafts. Armchair ...
July 16, 2013
With training camps upon us, there are a lot of new and changing situations to track which will inform the decisions you make in your fantasy drafts. Most of the studs ...
July 12, 2013
When it comes to picking fantasy football sleepers, it's a combination of opportunity, ability and anonymity. Take Chris Ivory for example. When the New York Jets traded for him during the ...
July 9, 2013
Writing about sleepers in fantasy football is a tricky task because someone always swears up and down that he was tracking the guys you list before you.So tracking sleepers is ...
June 28, 2013
Sure the NFL is a passing league, but the heart and soul of many fantasy football teams remains in the backfield.Running backs are always key to any fantasy championship, whether ...