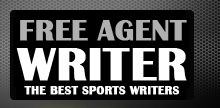 Yankee Addicts
Categories
Featured Sponsors
News published by
June 22, 2013
While it might be presumptuous to say something is a mistake when we're still in the offseason, there have been some events that make moves from the offseason so far, ...
June 1, 2013
With OTAs just about in the books and very early depth charts forming, it's time to take a look at some players whose contracts probably make their teams' general managers ...
May 24, 2013
There are a lot of things to say about the Jacksonville Jaguars that are true. They lose more than they win. They have issues at quarterback. They are, indeed, located ...
March 19, 2013
The Lions were definitely a team who had a tremendous opening week to free agency, bringing back key members of the defense like Chris Houston while adding new weapons like ...
March 13, 2013
With about $24 million in cap money to spend, the Minnesota Vikings are in good shape for both signing their own free agents as well as making room for some ...
March 13, 2013
As signings come in fast and furious—or in the Packers' case, whenever they damned well please—we'll be updating this as we go.The Packers are not often free-spending participants in free ...
February 24, 2013
With the Detroit Lions picking fifth this April, there are plenty of athletes for them to watch this week and a lot of directions they can go with that pick.One ...
February 24, 2013
We're just two days into the 2013 NFL Scouting Combine, but a few developments can be of interest to Chicago Bears fans.Of course, Saturday was the day we got to ...
February 20, 2013
One of the centerpieces to the NFL draft process, the NFL Scouting Combine features 335 athletes as they run drills, deal with the media and interview with team coaching staffs. ...
February 20, 2013
Here comes the 2013 NFL combine—almost a full week of running, throwing, catching and interviewing for 335 athletes hoping to make it to the NFL.Only 224 get drafted (not ...