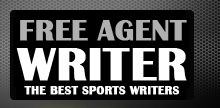 Yankee Addicts
Categories
Featured Sponsors
News published by
July 30, 2014
For guys like Ben Roethlisberger and Troy Polamalu, training camp is nothing more than a job requirement at this point. Hell, for guys like Tony Gonzalez, it was optional. For others, ...
July 15, 2014
No NFL team is totally without concern, and that rings true for the Pittsburgh Steelers. The team has gone through a dramatic makeover after its second straight .500 season. Numerous vets ...
April 6, 2014
It's fair to say that the additions of Lance Moore and Darrius Heyward-Bey have lessened the Pittsburgh Steelers' need at wide receiver. This means the Steelers don't have to, and ...
February 15, 2014
The Pittsburgh Steelers are renowned for their consistency amongst head coaches. Since 1969 the team has had just three men at the helm: Chuck Noll, Bill Cowher and Mike Tomlin. The ...
February 8, 2014
After consecutive .500 seasons, the Pittsburgh Steelers have some changes to make to their starting lineup if they expect to contend in 2014. Some 2013 starters will have new homes next season. ...
February 2, 2014
Ever since "Mean" Joe Greene was drafted in 1969, the Pittsburgh Steelers have been regarded as a defensively stout team. One needs look no further than their six Super Bowl ...
January 8, 2014
After a second straight lackluster season, there's no shortage of positions that the Pittsburgh Steelers could benefit from improving. The only question is which position will take precedence in the ...
December 11, 2013
With their 42-28 victory over the Indianapolis Colts, the Cincinnati Bengals took a big step towards landing at least the AFC's third seed. The game also marked the third time ...
December 8, 2013
After starting the year an uninspiring 0-4, the 5-7 Pittsburgh Steelers have somehow managed to remain on the cusp of relevancy. However, after Thanksgiving's gut-wrenching loss to the Baltimore Ravens, ...
November 16, 2013
While this hasn't been an easy season in Pittsburgh, there have been some bright spots that shouldn't be overlooked. These include Antonio Brown's breakout year and the Steelers win over ...