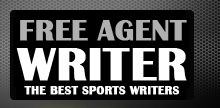 Yankee Addicts
Categories
Featured Sponsors
News published by
August 9, 2014
Johnny Football Mania invaded Detroit as the Cleveland Browns fall 13-12 to the Lions. Brian Hoyer started for the Browns and went 6-14 for 92 yards. When Hoyer left the game ...
January 22, 2014
There are five cost-effective moves the Cleveland Browns should make this offseason. Cleveland may have the largest adjusted salary cap in the NFL, reportedly over $150 million, but that doesn't mean ...
December 29, 2013
Pregame: The Cleveland Browns' (4-11) 2013 season mercifully comes to an end Sunday afternoon in Pittsburgh. The Steelers (7-8) are still mathematically alive in the AFC playoff picture, and the Browns can ...
October 2, 2013
Who is the new face of the Cleveland Browns? To start this season it was former third-overall draft pick Trent Richardson that was in commercials, on game programs and posters, etc. That all changed ...
October 31, 2012
We have reached the half way point of the NFL schedule and the Cleveland Browns sit with a 2-6 record. After eight weeks in the saddle as starting quarterback, the ...