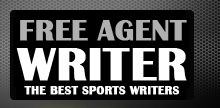 Yankee Addicts
Categories
Featured Sponsors
News published by
March 12, 2011
The Vikings were the most under-performing team in 2010 and I am not sure it's even debatable.  Brett Favre flopped, the offensive line still stunk and the run defense took ...
December 29, 2010
With a dazzling performance that left Eagles defenders in the dust, Joe Webb may have cemented himself as the quarterback of the future for the Vikings.Or did he?Webb went 17-for-26 ...
November 1, 2010
Just when you thought the Vikings organization couldn't have sunk any lower, they hit new depths on Monday after disgruntled wide receiver Randy Moss was waived. After the game, Moss gave ...
October 12, 2010
No one could have anticipated this. The runners-up for the NFC Championship game are 1-3 and already on the hot seat for missing the playoffs. The only good news for the ...
September 27, 2010
He's back and looks better than ever. After a "down year" that saw Peterson fumble seven times in 2009, six of which he lost, he has picked it up through the ...
September 11, 2010
The NFL season is under way, and as a fan, I couldn't be more excited.The season opener on Thursday was a good game between two of the best teams in ...
August 13, 2010
The time is nearly upon us as the NFL season is right around the corner. Teams are just entering the preseason and trying to fill their rosters with the best ...
July 14, 2010
In 2009, the NFC North featured two of the most explosive offenses in the NFL last season in the Green Bay Packers and the Minnesota Vikings. Led by Aaron Rodgers, the ...
June 14, 2010
2010 was definitely a year for quarterbacks as we saw 10 quarterbacks reach the 4,000 yard plateau. There were some breakout players (Matt Schaub) and some players that fell off the ...