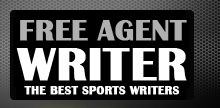 Yankee Addicts
Categories
Featured Sponsors
News published by
June 1, 2010
The big part of free agency is done, the draft is over, and training camp is just around the corner. Teams have, for the most part, solidified their rosters and ...
May 24, 2010
Each season, some rookie comes out of nowhere to impress coaches, teammates, and fans. They may have not been a first-round pick, but they blew away the competition and never ...
May 9, 2010
It's only been a couple of days since word spread that the Pat and Kevin Williams will potentially be suspended for taking an illegal substance, Bumetanide, that was in the ...
April 24, 2010
The Minnesota Vikings came into this draft with several big needs, including defensive back, quarterback, and offensive lineman. With two second-round picks after trading out of the first round to the ...
April 2, 2010
It's been a quiet offseason for the Minnesota Vikings. At this time last year, the Vikings were a quarterback away from being Super Bowl contenders and didn't need to fill a ...
March 23, 2010
Brad Childress keeps reiterating the fact that he's giving legendary quarterback Brett Favre all the time in the world he needs to make a decision on his playing future. That is, ...
March 17, 2010
It's being reported that the Philadelphia Eagles have released two-time Pro Bowler Shawn Andrew after two seasons riddled by injuries. The offensive guard has struggled with back problems and depression the ...
March 2, 2010
The Vikings are giving Brett Favre something that he hasn't been given for over six years: time to think about his future. After being pushed into early retirement several times, the ...