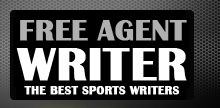 Yankee Addicts
Categories
Featured Sponsors
News published by
August 26, 2010
This forum post got me thinking about Colt McCoy and his chances for success in Cleveland.  I read the article in that post about the possibility of him being cut and wasn't surprised or ...
July 7, 2010
I'll start my annual look at the fantasy football season by looking at rookies to consider drafting at each position. As training camp proceeds, we'll revisit the ...
July 2, 2010
Possibly. And the culprit will be chronic traumatic encephalopathy (or CTE). I first learned about CTE after reading a Malcolm Gladwell piece in the New Yorker where he argued that football ...
April 28, 2010
This is the lightning round. No pans here. What's the point? Note how little the talent drops off from Round 2 to Round 3. Teams that frittered away their 3rd rounders ...
April 28, 2010
NFL fans regard the NFL Draft the way seniors regard nursing home MegaBingo. Both sit mesmerized for days listening to announcements punctuated by long silences, consult and ...
March 25, 2010
A few weeks ago, we explained why it would be a big mistake for the NFL to adopt the goofy proposed overtime rule changes. We didn't think the ...
March 15, 2010
The NFL is considering some changes to its sudden death overtime format for the playoffs in an effort to erase the receiving team's advantage. You know the concern: a team ...
March 10, 2010
Better known as Dorkapalooza . The conference was held on March 6, headlined by luminaries like Rockets GM (and '00 Sloan School grad) Daryl Morey, author Michael Lewis , Colts GM ...