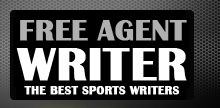 Yankee Addicts
Categories
Featured Sponsors
News published by
April 2, 2013
The San Francisco have bolstered their secondary by signing veteran cornerback Nnamdi Asomugha to a one-year contract.  Ian Rapoport of NFL.com broke the news:ESPN's Adam Schefter reported the financial details of the ...
March 27, 2013
The list of free agent quarterbacks does not offer many impressive names, and this is an abnormally weak draft class for signal-callers. This has left several teams to resort to ...
March 16, 2013
The New England Patriots have let go of wide receiver Brandon Lloyd after the veteran played just one season with the franchise. The Patriots announced the news through their official ...
March 16, 2013
Free-agent wide receiver Donte' Stallworth was hospitalized after a scary incident during a hot-air balloon ride with his girlfriend, but he is reportedly in stable condition.  ESPN Boston's Mike Reiss ...
March 12, 2013
The Pittsburgh Steelers and the Cincinnati Bengals have had several exciting battles recently, and NFL fans will not have to wait until the 2013 season for the next fight. Both ...
March 12, 2013
The St. Louis Rams have taken a significant step toward improving their offense by bringing in free-agent tight end Jared Cook. The St. Louis Rams reported their signing via Twitter:  #Rams ...
March 9, 2013
The start of NFL free agency is rapidly approaching and several teams short on offensive weapons will be battling to add a top-tier wide receiver.  Although Dwayne Bowe is no ...
March 3, 2013
The Kansas City Chiefs have positioned themselves to acquire San Francisco 49ers quarterback Alex Smith once NFL rules allow them to execute a trade, and new head coach Andy Reid ...
February 27, 2013
Remember when Notre Dame's Manti Te'o was a lock to be a top-10 pick in the 2013 NFL draft?  In the fast-paced world of draft speculation, that may seem like ...
February 23, 2013
The top prospects at the NFL Scouting Combine often receive most of the attention in the lead up to the workouts in Indianapolis, but the biggest winners of the events ...