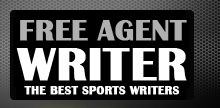 Yankee Addicts
Categories
Featured Sponsors
News published by
July 22, 2010
For NFL fans, the summers are usually pretty long. I don't know about you guys, but I am sort of ready for the action to kick off right now—not in September.  ...
July 13, 2010
After watching NFL Network and ESPN fail at ranking their top five quarterbacks in the game today, I've decided it was time to show them what's up with a list ...
June 18, 2010
The Albert Haynesworth/Washington Redskins contract dispute continues to dominate the NFL offseason headlines.  Many are throwing all the blame on Haynesworth himself. But, in my opinion, the Redskins' front office ...
June 17, 2010
For an NFL fan, every matchup is fun to watch, and has its own storylines. But at the same time, certain matchups stick out, and are usually a must-see for every ...
June 15, 2010
Far too many fans seem to take a solid special teams core for granted. Yes, most of the scoring happens on offense. And, yes, the defense is actually the ones whose ...
June 14, 2010
In July and August when NFL teams begin their training camps, most coaches are concerned about one thing—their starting quarterback. The quarterback is, without a doubt, the most important position on ...
June 2, 2010
In the NFL, anything can happen. Whether it be New England's undefeated regular season in 2007, Tom Brady's 50 touchdown passes, or Chris Johnson becoming the sixth player ever to rush ...
May 30, 2010
With a majority of the acquisitions already being completed and with team mini camps in full swing, it's time to look back at a crazy winter and spring full of ...
May 29, 2010
Never too early to preview the upcoming fantasy football season. Coming off a record-breaking season—in just his second season in the league—Tennessee Titans running back Chris Johnson seems to be the ...
May 28, 2010
Generally, the months of May and June are rather slow when it comes to NFL headlines. What better way to pass the dog days of summer than with a few ...