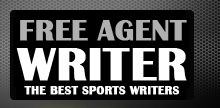 Yankee Addicts
Categories
Featured Sponsors
News published by
May 20, 2011
With the lockout still in place until at least the June 3 hearing, us fans will have to wait a little longer for the start of free agency.While we wait, ...
April 23, 2011
Every team has those players that fans think are what we like to call "washed up."This is something all players experience at some point in their careers, whether it be ...
March 2, 2011
The New Orleans Saints made a huge acquisition earlier tonight. Literally.The addition of 340-pound defensive tackle Shaun Rogers, who they signed to a one-year contract worth over $4 million, was a great ...
February 26, 2011
The first game of the 2011 season—if the NFL lives to see that day, that is—will mark the beginning of the Houston Texans' 10th season of existence.With the league's youngest ...
February 19, 2011
In Pittsburgh, football games are won on the defensive side of the ball.The team thrives on putting pressure on the quarterback and causing havoc, leading to turnovers. Those turnovers are ...
February 9, 2011
I recently had the chance to talk with former NFL defensive end Kevin Carter after coming in contact with him via Schoolofthelegends.com, a new interactive website created so that fans ...
November 10, 2010
With plenty of blowouts, shootouts, and knockouts in the past few weeks, it's tough to issue a clear-cut list of the top 10 teams in the NFL thus far.While opinions ...
August 6, 2010
In the beginning of August each year the NFL opens the doors to welcome in a few new members of the league's Hall of Fame in Canton, Ohio. This year's ...
July 29, 2010
With August just around the corner, it's time to start preparing your keeper league football team for the season. Picking the right keepers is key to starting your season off ...
July 26, 2010
With the 2010 Hall of Fame induction coming up in August (I will post an overview on the inductees later on), I thought this was a good time to take ...