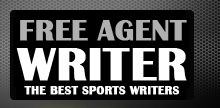 Yankee Addicts
Categories
Featured Sponsors
News published by
March 7, 2011
I will try to clear up some misconceptions that are floating around regarding people and programs related to the Wolverines: Should MSU be upset that Darius Morris made a ...
February 4, 2011
It's hard to believe that this is the last football game of the season.  It seems like Michigan and UConn just kicked off a few weeks ago.  Wow, a lot ...
December 23, 2010
There has been a Jack Tabb recruiting update from Sam Webb at the Detroit News.  Rich Rod just did an in home with Jack last week:  "It was definitely good ...
November 15, 2010
7-5 Many of us predicted in August this would be the Wolverines record at the end of the season.  The Wolverines are 7-3 right now and won't be favored in the next two weeks.  IMO, ...
October 13, 2010
Before we get to recruiting news, I have a couple sports related business topics for Wolverines and football fans. More Jersey News:  Nike has bought the NFL contract away from ...
October 4, 2010
Question from Voice of Reason I know that when playing true freshmen you are taking a higher risk. I think Cam Gordon's got potential, but I question if he ...
September 22, 2010
Today is Shoelace's Birthday!  Denard turns 20 today. We mentioned yesterday that Dee is supporting a number of his teammates on trips to places like Arkansas and Auburn.  ...
August 12, 2010
The inside scoop on J.T. Turner is that he showed up out of shape to fall camp and was running with the third string on Monday (not sure if he ...
July 23, 2010
Steve Brown took a lot of heat during his Michigan career at the safety position.  Last year, Steve played very well at Greg Robinson's Strong Side Linebacker.  Steve was basically ...
June 24, 2010
As many of you know, Seantrel Henderson is regarded as the No. 1 recruit in the nation by some recruiting services waited to sign to his LOI to USC. The ...