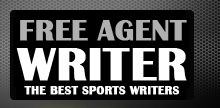 Yankee Addicts
Categories
Featured Sponsors
News published by
May 13, 2010
I keep reading these reports on the Big Ten and the universities they didn't offer spots to. The replies from the universities and the Big Ten seem similar: Universities: ...
April 26, 2010
If you follow this blog you know I have a few topics that I burn on regularly; concussions and Wolverines leaving early for the NFL or NBA Drafts. Now don't ...
March 6, 2010
I have an offer for any of the Big House Blog readers:On Mar. 16, I am heading to the Basement (vacation) for a week.  I'm looking for some of my ...
February 25, 2010
Being a Michigan Football Blogger these days is like following your favorite NFL Team, there is always something to talk about. As a Michigan fan, I'm sick and tired of reading ...