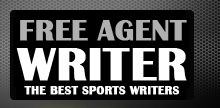 Yankee Addicts
Categories
Featured Sponsors
News published by
March 14, 2011
Outside of Christmas, the NFL draft is the most wonderful time of the year. Well, sometimes. The 2011 draft has been clouded a bit as NFL owners and players struggle to come ...
March 11, 2011
Of the countless wide receivers on the 2011 NFL free agent market, one man reigns supreme: Sidney Rice.Sure, you have guys like Santonio Holmes, Braylon Edwards, Steve Smith (the Giants ...
March 4, 2011
Let's all be optimists today and assume that there will be no NFL lockout.Yeah, I'm definitely not convinced that will be the case either. But alas, we're going to pretend ...
February 25, 2011
The New York Jets have been to two straight AFC Championship games. In 2010, they got there with Braylon Edwards as the team's big name wide receiver. And in 2011, Santonio ...
February 11, 2011
For every superstar who plays on one of the NFL's best teams, there's another whose incredible production pays just about zero dividends.He'll rack up stats and Pro Bowl honors like ...
February 9, 2011
2011 NFL Draft Road Starts With the NFL CombineFor some college football players, their NFL Draft status is pretty set and not much can be done to change it.But for ...
February 4, 2011
2011 NFL Draft Still Two Months Away, But NFL Combine Provides Entertainment for FansIt's only February 4th, which means that we still have Valentine's Day, Presidents Day, Mardi Gras, Ash ...
January 28, 2011
2011 NFL Trade Rumors won't mean anything if the owners and players can't reach a new collective bargaining sometime soon.But I'm going to take the optimistic—or maybe stupid—approach and say ...
January 19, 2011
NFL Playoffs 2011: There are plenty of perks that come along with being a professional athlete.Like playing the sport you love, getting overpaid to shoot a ball into a hoop ...
January 17, 2011
Bart Scott Interview: After a week filled with more trash talking than you'd see at a high school girl's lunch table, the New York Jets got the last laugh with ...