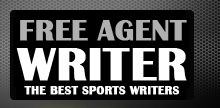 Yankee Addicts
Categories
Featured Sponsors
News published by
March 24, 2011
Whenever I've just watched an episode of Family Guy, I always wind up with mixed thoughts on what I just saw. There were those good moments when I found myself laughing ...
March 24, 2011
The always entertaining Urban Dictionary defines a "fair weather fan" as follows: "A fan of a sports team who only shows support when the team is doing well. During hard ...
March 18, 2011
The 2011 NFL Draft is a little more than a month away, and NFL experts, scouts and analysts continue to break down how this draft will play out.The assumption is ...
March 17, 2011
Ryan Kerrigan Gives Tampa Bay Buccaneers a Force Off the EdgeKerrigan was a monster in his final season at Purdue, raking in 12.5 sacks and leading the nation with 26 ...
March 17, 2011
Akeem Ayers Lands In Kansas City as an Immediate StarterTamba Hali was a beast for Kansas City this past season (14.5 sacks and four forced fumbles), but the Chiefs didn't ...
March 17, 2011
Indianapolis Colts Grab Wisconsin's Gabe Carimi With No. 22 Overall PickRemember a guy named Joe Thomas who played at Wisconsin?Well, Gabe Carimi's not quite the player Thomas was/is, but he's ...
March 17, 2011
Anthony Castonzo Will Keep Michael Vick From Hitting the DirtThe glaring weakness on Philadelphia's offense this year was its offensive line, which gave up the fourth most sacks in the ...
March 15, 2011
Right now, it's hard for any NFL fan to think about anything but the possibility that there won't be a 2011 season. But if there's one saving grace for the sport's ...
March 14, 2011
2011 NFL Draft Could Make Super Bowl Champs Even More DangerousThe Green Bay Packers are still riding high from a magical 2010 season that ended with a Super Bowl victory.But ...
March 14, 2011
NFL Draft 2011 Could Be One Big Headache for Arizona CardinalsBy all accounts, the Arizona Cardinals need to find a quarterback--somehow, some way--before the 2011 NFL season.After Kurt Warner retired ...