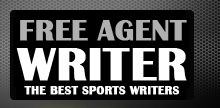 Yankee Addicts
Categories
Featured Sponsors
News published by
January 9, 2017
Chicago Bears running back Jordan Howard's 1,313 rushing yards in 2016 marks the most for a rookie back in the franchise's history, per NFL Communications. The effort moved him past longtime ...
January 5, 2017
Baltimore Ravens tight end Dennis Pitta finished with 86 catches in 2016, posting the highest single-season total at the position in franchise history, per NFL Communications. Pitta led the Ravens in ...
December 29, 2016
San Diego Chargers veteran tight end Antonio Gates needs to catch just one touchdown pass in Sunday's game against the Kansas City Chiefs to tie Tony Gonzalez for the most ...
December 29, 2016
Carolina Panthers tight end Greg Olsen caught six passes for 59 yards in Saturday's game against the Atlanta Falcons. In doing so, he became the first tight end in NFL history ...
December 19, 2016
Miami Dolphins running back Jay Ajayi rushed for 51 yards on 19 carries in Saturday's 34-13 win over the New York Jets, surpassing 1,000 total for the season, per the ...
December 16, 2016
Dallas Cowboys tight end Jason Witten enters Sunday's matchup with the Tampa Bay Buccaneers just three catches short of passing Terrell Owens for the eighth-most in NFL history, per Pro-Football-Reference.com. For ...
December 15, 2016
Green Bay Packers quarterback Aaron Rodgers posted his 37th career game with three touchdowns and no interceptions in Week 14's game against the Seattle Seahawks, per ESPN Stats & Info. The ...
December 14, 2016
Minnesota Vikings tight end Kyle Rudolph scored his 28th career touchdown during Sunday's 25-16 victory over the Jacksonville Jaguars, tying him with Steve Jordan for the most career touchdowns by ...
December 13, 2016
New England Patriots quarterback Tom Brady became just the fourth quarterback in NFL history to throw for 450 touchdown passes in a career during Monday's game against the Baltimore Ravens, ...
December 6, 2016
During Sunday's 31-23 victory over the Washington Redskins, Arizona Cardinals wide receiver Larry Fitzgerald recorded 10 catches for 78 yards. The outing moved him past Hall of Famers Cris Carter and ...