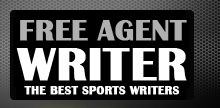 Yankee Addicts
Categories
Featured Sponsors
News published by
November 12, 2010
Two and Six. Whether that's a disappointing or expected record, it adds up the same. These last eight games have all the meaning of a preseason schedule. The cold hard fact is ...
September 15, 2010
Now that was one tough opening game. Every new season brings new questions and as Lion fans we sure had a long list of answers we were looking for. From ...
September 4, 2010
Does preseason seem like Thanksgiving morning to you? We can smell the aromas being created in the kitchen and we sure are getting hungry for some football. Preseason games are like stealing ...
September 1, 2010
Do you turn on the computer every day hoping to see there was a little Mayhew Magic happening while you were away? Do you listen for the rumors, who might get ...
August 25, 2010
Two games into the preseason and I can't wait for those Bears on opening day but we can't go there yet.We have some business to take care of yet. We ...
August 17, 2010
It is awful easy to get excited about all the moves the Lions made this off season.Whenever Martin Mayhew wasn't bringing in a new weapon for Matt Stafford he was ...
June 18, 2010
See that smile? Maybe he knows what we should all know. While doing some research on my last article—where I compared how the Detroit Lions added players in their first two years ...
June 16, 2010
I'm sitting around with nothing to do, so my mind naturally turns to the Lions. Not sure what that says about me. Fortunately this affliction has a large support group. Anyways, ...
June 13, 2010
Look at that picture. That's Lions linebacker Julian Peterson on the Vikings All-Pro WR Sidney Rice. Seems to be doing a pretty good job of it too. I've talked about the new faces ...
June 9, 2010
Stop me if you have heard this one before. The Lions secondary will be better because of the improved defensive line. Makes sense, right. Less time to throw means less time the ...