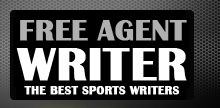 Yankee Addicts
Categories
Featured Sponsors
News published by
June 9, 2010
Any serious football fan is familiar with the phrase "staying on schedule." Three and four yard gains are great as long as it gets you 3rd and 2 while ...
June 4, 2010
Time for a little change of pace. I have been writing about the Detroit Lions secondary and the OL and Mayhew and well, it's time for a little break. Don't think I ...
June 2, 2010
Well, he's a free agent now, according to a report by MSNBC. O.J. Atogwe refused to sign his tender and St Louis refused to pay the nearly $7 million it would ...
May 27, 2010
Does another missed tackle by Detroit Lions cornerbacks look all too familiar? Seen enough? So did the Lions. Detroit general manager Martin Mayhew and head coach Jim Schwartz took out the broom, and ...
May 25, 2010
Is this what our secondary will look like after we hit some rocks named Brady or Favre? We may be in uncharted territory, but our captain has the ...
May 24, 2010
That picture says a lot, even at his age, I'd probably have the same welcome if Lem Barney wanted to come back and play today. But it hasn't always been ...