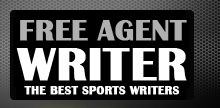 Yankee Addicts
Categories
Featured Sponsors
News published by
April 24, 2010
To say that the 2010 NFL Draft has been a surprise would be an extreme understatement. The first round of the draft featured the most trades in NFL draft history, and ...
April 22, 2010
In 2004, the Pittsburgh Steelers drafted franchise quarterback Ben Roethlisberger with the 11th overall pick in the first round. In 2010, they may be pressing the restart button and going after ...
April 19, 2010
Pittsburgh Steelers Nation has been waiting for it—now ESPN has confirmed it. Steelers starting quarterback Ben Roethlisberger will officially be suspended by NFL Commissioner Roger Goodell on Monday ...
April 17, 2010
Since my fourth installment of the 2010 NFL Mock draft, veterans have been on the move all over the NFL. The trades of these proven NFL veterans are sure to shake ...
March 31, 2010
The 2010 NFL Draft is less than a month away and players are finally beginning to solidify their positions in the draft.  In the fourth version of my 2010 NFL Mock ...
March 24, 2010
Get ready Browns fans, if the additions of Scott Fujita, Tony Pashos, Ben Watson, Seneca Wallace, Peyton Hillis, and Jake Delhomme weren't enough for you: Eric Mangini and Mike Holmgren ...
March 14, 2010
The re-construction of the Cleveland Browns continued on Sunday, just not in a way that anyone thought.  After news of the trade of Brady Quinn made headlines, it is being reported ...
March 14, 2010
The writing has been on the wall for weeks, but today the Cleveland Browns finally gave Brady Quinn his wish and traded him out of Cleveland. The former Notre Dame standout ...
March 13, 2010
To say that the Browns' defense has been atrocious over the past decade may be an understatement. Since the reincarnation of the Cleveland Browns in 1999, the team has experienced only ...
March 7, 2010
Since the clock struck 12:01 on Friday morning, rosters have been changing all over the NFL. The Chicago Bears made the most noise in free agency by throwing $55 million of ...