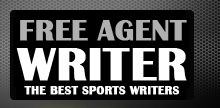 Yankee Addicts
Categories
Featured Sponsors
News published by
December 26, 2012
Heading into the last week of the season, the Bears find themselves in a difficult position. A win and they still may not make the playoffs. A loss and a regime ...
October 28, 2012
I recently wrote that this Bears-Panthers matchup should result in an easy victory for Chicago if things go as planned. But exactly what are these "things" and what has to ...
May 27, 2012
With the Bulls and Blackhawks out of their respective playoffs, and neither baseball team in first place—the Cubs are awful, though the Sox are playing well—there is more attention than ...
April 1, 2012
So far, the Chicago Bears have addressed their most glaring need this off-season, and that is acquiring a legitimate number one wide receiver. New GM Phil Emery accomplished that by ...
March 25, 2012
The NFL draft prospects for any given player can change more rapidly than the stock market. One day you're up, the next day you're down. And a lot of that ...
January 1, 2012
NFL coaches are intensely competitive by nature. It's a "win or else" mandate from their bosses, the fans and the media. But the desire to win now must be balanced with the ...
October 29, 2011
Michael Wilbon may be a Bears fan, but he's off-base here, in my opinion. He believes that Terrell Owens could help the Bears, but I say it's just not worth ...
July 17, 2011
Vinnie Iyer of Sporting News writes that free agent cornerback Nnamdi Asomugha will choose among the following four teams: Detroit Lions, Green Bay Packers, Houston Texans, and Philadelphia Eagles.  Fans of ...
April 17, 2011
The draft board is changing quickly as teams start to settle on whom they will be picking in the upcoming draft. And, with just 11 days left until draft day, ...
April 15, 2011
The Chicago Bears have a long and storied history. Heck, "Papa Bear" George Halas founded pro football in 1920 and charged each team $100 for membership. Along the way, they have ...