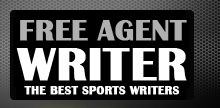 Yankee Addicts
Categories
Featured Sponsors
News published by
April 11, 2011
Jay Cutler is a riddle wrapped up in an enigma. He oozes talent from every pore, yet still hasn't taken that leap into the elite pool of quarterbacks in the NFL. ...
April 8, 2011
It's April and that means NFL draft, which, in turn, means we just cannot get enough mock drafts! In my last draft, I had the Bears picking an offensive lineman ...
April 4, 2011
Like most teams, the Chicago Bears' history is littered with first-round picks that never fulfilled their lofty expectations. In fact, some have been complete busts. In the Jerry Angelo era, he ...
April 1, 2011
Admit it, Bears fans—we secretly admired and respected Brett Favre through the years for his skill and toughness. That is, until he decided to retire and un-retire like a revolving ...
March 21, 2011
Despite the uncertainty of the current labor situation in the NFL, Bears fans and management recognize the importance of the upcoming NFL Draft. Although the needs are many, most agree ...
March 19, 2011
The Bears have taken a beating on the results of their first-round draft selections, especially over recent years, and with good reason. Flops like Cade McNown, Curtis Enis and Stan Thomas ...
March 15, 2011
As sports fans, we could always count on at least three certainties in life: death, taxes and the NFL season. Well, thanks to the lockout and ensuing legal battles, that last part ...
January 19, 2011
As the Chicago Bears and Green Bay Packers bring the NFL's oldest, fiercest rivalry to Soldier Field on Sunday in the 2011 NFC Championship game for the world to see, there ...
January 12, 2011
A caller to a radio program in Chicago raised an interesting question; something that I hadn't considered, and perhaps you haven't either. That is, is Stanford star QB Andrew Luck pulling ...
January 11, 2011
The football gods continue to smile upon Lovie Smith and the Bears as the Seattle Seahawks upset the defending champion New Orleans Saints and bring their 8-9 record into Soldier ...