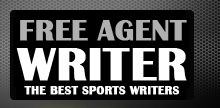 Yankee Addicts
Categories
Featured Sponsors
News published by
January 18, 2017
The 2017 offseason has arrived for 28 of the NFL's 32 teams, which means front offices can begin to focus on free agency and the draft. The former kicks off in ...
January 15, 2017
On Saturday night, the New England Patriots were the biggest playoff favorites this century. According to OddsShark, they were supposed to beat the lowly Houston Texans by 17 points.  The Patriots ...
January 12, 2017
Sunday against the Green Bay Packers, Dak Prescott of the Dallas Cowboys will become the 22nd rookie quarterback to start an NFL playoff game. Nobody knows exactly what to expect, especially ...
January 11, 2017
When the Kansas City Chiefs host the Pittsburgh Steelers in Sunday's AFC Divisional Round game, all eyes will of course be on quarterbacks Alex Smith and Ben Roethlisberger, Chiefs All-Pro ...
January 8, 2017
On Saturday, the NFL playoff field was reduced from 12 to 10 teams. On Sunday, two more squads will bite the dust. And that's a shame because it's a day ...
January 8, 2017
Congratulations to the Houston Texans and Seattle Seahawks. One down, three to go. And congratulations to you if you managed to get through a strange NFL Wild Card Saturday. As expected, ...
January 7, 2017
Last time the Detroit Lions won a playoff game, George H. W. Bush was president. That's the first one. Lovable losers, those Lions are. They've lost eight straight playoff games dating ...
January 2, 2017
NFL coaches and executives lose their jobs every year on the first Monday after the conclusion of the regular season. It's such a twisted tradition that we've come to know ...
December 27, 2016
I don't know about you guys, but Dak Prescott and the Dallas Cowboys still had to show me something. Sure, the Prescott- and Ezekiel Elliott-led Cowboys had already clinched the top ...
December 24, 2016
Just a month after so many of us declared them dead, the Green Bay Packers are a victory away from entering the playoffs as a division champion and the NFL's ...