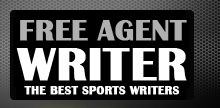 Yankee Addicts
Categories
Featured Sponsors
News published by
December 22, 2016
NFL rushing leader Ezekiel Elliott has taken the league by storm in his rookie season. The No. 4 overall pick has 327 more rushing yards than anyone else in football, ...
December 21, 2016
Let's rewind four weeks to Nov. 24. It's Thanksgiving, which means the nation's casual sports fans are watching NFL football. The Dallas Cowboys are hosting the Washington Redskins in a ...
December 19, 2016
Rookie quarterback Dak Prescott might not lead the Dallas Cowboys to Super Bowl LI, but his highly efficient if not spectacular performance Sunday night against the Tampa Bay Buccaneers probably ensures ...
December 13, 2016
With the prince of pro football at quarterback, the usually sharp and efficient New England Patriots have made a habit of winning an ugly sport's games in pretty fashion.  So it ...
December 12, 2016
A lot of us were ready to count the 2016 Green Bay Packers out when they lost four straight games in October and November. Green Bay had been demoralized by ...
December 6, 2016
The Indianapolis Colts haven't lost a game with Andrew Luck at quarterback since Oct. 30. OK, they had a bye week in there and Luck was in concussion protocol when they ...
December 5, 2016
If you ask all your football-loving friends and family members to make a short list of Super Bowl LI contenders, few of those lists will include the Pittsburgh Steelers, unless you ...
December 1, 2016
If the New England Patriots are going to reach their seventh Super Bowl in the last 16 years, they'll likely have to do so without the world's best tight end.  According ...
November 30, 2016
What is the definition of a blowout? There's no universal answer, and it's probably safe to say blowouts exist only in the eye of the beholder. But most of us ...
November 29, 2016
Mired in their worst slump in eight years, the Green Bay Packers didn't deserve our love or admiration. The depleted defense was embarrassed in four consecutive losses, and the uncreative, ...