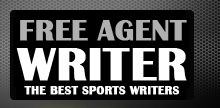 Yankee Addicts
Categories
Featured Sponsors
News published by
January 16, 2011
Whew. That's the expression millions of Americans are using after an exciting day of football, which saw the Green Bay Packers and Pittsburgh Steelers move within a game of the ...
January 16, 2011
The NFL playoffs may be underway but the 2011 NFL draft is going to garner more and more attention with each passing day. Most of the focus has been on ...
January 15, 2011
It's official. Cam Newton and Nick Fairley are both heading to the NFL fresh off a national championship at Auburn. It wasn't a surprise that Newton and Fairley decided to ...
January 15, 2011
Round 2 of the playoffs is sure to be better than Wild Card Weekend, especially considering the drama that has taken place between Rex Ryan's New York Jets and Bill ...
January 14, 2011
John Fox is the new Denver Bronco head coach if you haven't already heard. Prior to getting the job with Denver, Fox was with the Carolina Panthers for nine years. ...
January 3, 2011
If you were screaming at your television last night when the Seattle Seahawks defeated the St. Louis Rams to become the first sub .500 to make the playoffs, you weren't ...
January 3, 2011
John Fox coached his last game in Carolina yesterday. Eric Mangini was fired today as coach of the Cleveland Browns. The two coaches now find themselves looking for new jobs ...
December 19, 2010
Week 15 of the NFL season means the playoffs are almost here, but in the case of fantasy football, it means the playoffs are here. This is the time of ...
December 12, 2010
It's playoff time for most fantasy football leagues, meaning that if you lose, you're done, and bragging rights are out of the question. The best part about starting fantasy playoffs ...
December 6, 2010
After the Carolina Panthers got out to a 14-0 lead over the Seattle Seahawks, the home crowd was enraged and let the home team know how they felt with a ...