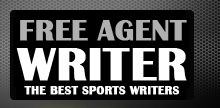 Yankee Addicts
Categories
Featured Sponsors
News published by
December 3, 2010
Dwayne Bowe and Peyton Hillis continue to be fantasy studs heading down the stretch of the fantasy season when owners need players to step up the most. Both players enjoyed ...
November 29, 2010
Philip Rivers versus Peyton Manning could prove to be one of the best quarterback duels we will see this season. Manning is routinely one of the best QB's in the ...
November 28, 2010
What an exciting early slate of games Week 12 of the NFL brought. But despite some of the crazy finishes, the biggest story came from one of the least exciting ...
November 21, 2010
Houston Texans running back Arian Foster is in the midst of a career year in which he is currently leading the league in rushing. While Foster's 920 rushing yards heading ...
October 23, 2010
The NFL is often billed as a league of parity-filled teams. This year is no different, especially in the NFC where one team can look great one week and completely ...
October 3, 2010
Every year in the NFL there are a variety of players who perform at a high level, yet go unnoticed. Part of that is due to the fact that the ...
September 27, 2010
Steve Smith is electric, volatile at times, and one of the NFL's best wide receivers, although you may not think so because of last year's play and this year's performance.Well, ...
September 20, 2010
The quarterback is the most important position on a football team, and with that, they receive the most praise with a victory. And the majority of the blame when they ...
September 17, 2010
As we enter the second week of the regular season, one can only hope for some more exciting football than we saw this past weekend. The Minnesota Vikings New Orleans ...
September 12, 2010
With the New York Giants set to open their brand new stadium Sunday, they are hoping to get revenge against the Carolina Panthers who beat them in Week 17, 41-9. Much ...