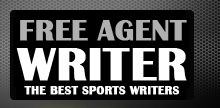 Yankee Addicts
Categories
Featured Sponsors
News published by
September 22, 2010
Just how worried are the Minnesota Vikings about their 0-2 start this season? We could find out the answer to this question within the next few hours. With San Diego Chargers ...
September 14, 2010
Bitter rivals, the Washington Redskins and Dallas Cowboys, faced off Sunday night, opening their seasons with a bang. There were many storylines heading into the season opener: "The Mike Shanahan ...
September 10, 2010
Start: Malcom Floyd—San Diego Chargers With the departure of wide receiver Vincent Jackson, quarterback Phillip Rivers will be looking for somewhere to successfully throw the football. Week 1 shapes up ...
August 31, 2010
If you're looking for a list of "hidden gems" that could provide a nice boost to your fantasy football team this season, watch closely in the late rounds for these ...
August 9, 2010
Each NFL season, the league is rejuvenated with the injection of new talent and hype. Some of these talents pan out; other times they "bust" and underachieve. It is interesting ...