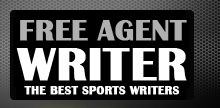 Yankee Addicts
Categories
Featured Sponsors
News published by
January 5, 2011
So the Pro Bowl roster has been announced, and yet there is another year of a couple Redskins clearly getting snubbed because they are being looked past due to the ...
December 9, 2010
With Redskins park turning into a daily soap opera it is time to look back at the once proud Washington Redskins organization and see how many huge "whoops" moments there ...
November 22, 2010
Franchises occasionally decide to change their uniforms, logos and sometimes their mascots to make their team look better, seem more fierce and for reasons unknown except to sell more jerseys.There ...
November 18, 2010
Good day to everyone who happens to be taking the time to read this article. After the Monday Night Massacre the Redskins have to rebound and travel to Music City, Nashville, ...
November 15, 2010
According to Jason La Canfora of NFL.com, Donovan McNabb has signed a five-year extension with the Washington Redskins that could be incentive based up to $88 million. This slideshow looks ...
November 2, 2010
Want a holy crap moment? You got it. Redskins offensive coordinator Kyle Shanahan did his best to explain what happened with Donovan McNabb being benched during the fourth quarter of the Redskins ...
October 20, 2010
Welcome, Redskins fans, to another week and another interview with an opposing team's featured columnist. If you have been following me over the past few weeks, you know exactly how ...
October 18, 2010
I said it last week and I'll say it again, have you sat down yet? The game started off with a bang, literally. The opening kickoff return for the Colts was ...
October 10, 2010
Oh...My...Goodness. What a game. Early in the game, Aaron Rodgers hooked up with Donald Lee for a touchdown after a very long yardage, short drive. It also appeared that the Packers were ...
October 8, 2010
Redskins First of all, I would like to take a moment and pass along a prayer for the difficult time Albert Haynesworth is being faced with right now. Haynesworth's half-brother, Lance McCoy, ...