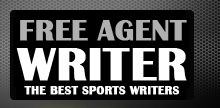 Yankee Addicts
Categories
Featured Sponsors
News published by
May 31, 2010
The Packers had a major problem with the Vikings, Steelers, Cardinals, and even the Bengals with Carson Palmer. As announcers and reporters around the world have pointed out, these teams ...
May 22, 2010
As I'm sure we have all heard, Brett Favre has decide to under go arthroscopic ankle surgery. According to mass media and Favre's doctor it will take about 4 weeks ...
May 21, 2010
When Brett Favre originally left the Green Bay Packers, the task of leading the team was left in the hands of the young Aaron Rodgers. Though it took Brett Favre ...