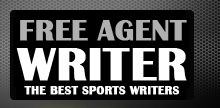 Yankee Addicts
Categories
Featured Sponsors
News published by
March 12, 2011
I apologize to all of you for not writing more recently. However, I know you will all understand when I explain that it took me an inordinately long time to ...
November 12, 2010
Before the season began, the Baltimore Ravens were one of the top picks to reach the Super Bowl by the media. Of course, it is well known that teams don't ...
November 4, 2010
It was a beautiful scene for New Orleans faithful, not all that long ago: the Saints, formerly the 'Aints, finally lifted the Vince Lombardi Trophy and were Super Bowl champions ...
October 15, 2010
It's what everyone knows happened but isn't supposed to talk about if they are Patriots fans. It's what Ravens fans dare to hope might happen again.It's the elephant in the ...
October 11, 2010
Finally, a game where it all came together.After the big win at Pittsburgh last week, ESPN's James Walker pointed out that in their last nine contests against the Steelers, the ...
October 3, 2010
Ahhh yes, it is that time of year again. The best time of year. The time of year where it is time for the best rivalry in the NFL to ...
September 27, 2010
It wasn't the most convincing win the Baltimore Ravens have ever had, but the bottom line is that after Sunday's game at M&T Bank Stadium the Ravens have improved to ...
August 14, 2010
John Harbaugh's Baltimore Ravens squad looked good last night in its first preseason game, beating the visiting Carolina Panthers by a score of 17-12. There were a few areas where ...
July 8, 2010
When I got my hands on the Madden ratings for the Baltimore Ravens, my hometown team, all I thought was one thing—it's about time. After years of being underrated by ...
July 5, 2010
Right about this time every year you hear about things other than football that are related to the NFL: arrests of current and former NFL players, possible suspensions, and maybe, ...