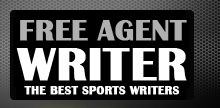 Yankee Addicts
Categories
Featured Sponsors
News published by
June 28, 2010
The acquisition of former Pro Bowl QB Marc Bulger via free agency from the St. Louis Rams is correctly being lauded as a strong move by Ravens GM Ozzie Newsome- ...
June 26, 2010
You hear it every year- and I mean EVERY year- some Steelers fan, desperately grasping at a reason to keep the Ravens down, will automatically say "yeah, but Ray Lewis ...
June 16, 2010
One constant that the Ravens have been blessed with is the presence of GM Ozzie Newsome, affectionately called the "Wizard of Oz" by Ravens fans far and wide for his ...
June 3, 2010
Hey guys, this is the other half of my article in which I create the all-time Ravens team! The other one can be seen here: http://bleacherreport.com/articles/398641-the-all-time-ravens-offense-1996-to-present But to recap, the offense I ...
May 20, 2010
Okay everyone, with the draft in the rear view mirror it is time for predictions: who's going dancing in the 2010 NFL Playoffs? This format will be simple: I'll look ...
April 25, 2010
The NFL did a great thing this year by getting great players to announce some of the picks at this year's NFL draft, and from a PR standpoint the NFL ...