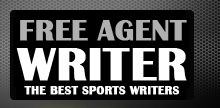 Yankee Addicts
Categories
Featured Sponsors
News published by
January 17, 2017
The field is set for the 2017 NFL draft.  Another loaded group of underclassmen is set to enter the NFL prospect pool. In total, 94 sophomores and juniors will forego their ...
January 16, 2017
The NFL is a quarterback-driven league. This was never more evident than during Sunday's divisional round of the playoffs.  After two blowouts in which Tom Brady and Matt Ryan led their ...
January 14, 2017
After a disappointing opening weekend of playoff football—the average margin of victory was 19 points—the NFL and its fans are ready for a decent matchup or two.  One might be on ...
January 10, 2017
NFL free agency is always about striking at the opportune time.  A player doesn't need to be the best at his position to be paid like it. Instead, age and timing ...
January 8, 2017
The Miami Dolphins and the Pittsburgh Steelers ready themselves for a rematch during the opening weekend of the NFL playoffs.  When these two teams previously met in Week 6, the Dolphins ...
January 8, 2017
The Houston Texans entered Bizarro World at the onset of the NFL's postseason.  J.J. Watt isn't needed to field a dominant defense, and quarterback Brock Osweiler is no longer holding back ...
January 5, 2017
The most important player on the field for the Pittsburgh Steelers during the playoffs won't be quarterback Ben Roethlisberger, wide receiver Antonio Brown or running back Le'Veon Bell.  The Steelers will ...
January 4, 2017
What did multiple NFL teams find during the 2016 season? Hope.  Optimism can come in many forms. For the football teams, the development of a talented young player into a star can ...
January 3, 2017
While some may be basking in the afterglow of the holidays, the NFL's bleakest day came and went.  Black Monday influences so many around the league. Coaches are fired, general managers ...
December 27, 2016
'Tis the season to experience the NFL playoffs.  Or get fired along the way. While not as catchy as the traditional holiday tune, this is the league's harsh reality. Ten teams already ...