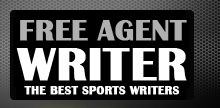 Yankee Addicts
Categories
Featured Sponsors
News published by
December 24, 2016
Quarterback Matt Ryan and wide receiver Julio Jones represent the best of the Atlanta Falcons, yet they're not the driving force behind the team's 2016 success.  Center Alex Mack, linebacker Deion ...
December 23, 2016
The NFL's future at quarterback won't come in the form of Clemson's Deshaun Watson, North Carolina's Mitch Trubisky, Notre Dame's DeShone Kizer, UCLA's Josh Rosen or Louisville's Lamar Jackson.  Instead, a ...
December 21, 2016
The Pro Bowl is the NFL's annual talent showcase, but who plays in the all-star event is quite subjective.  At times, those voted into the game are the result of a ...
December 18, 2016
A competent backup quarterback is worth his weight in gold in a league where teams struggle to find legitimate starters.  The Miami Dolphins' Matt Moore hadn't started since 2011, yet he shook ...
December 16, 2016
An NFL player's draft status doesn't determine his career. It's merely the starting point. The league is littered with talented participants who weren't drafted. As with any rookie class, there will ...
December 9, 2016
Prizefighter Jack Dempsey stood 6'1", but he said it best about facing taller opponents: "Tall men come down to my height when I hit 'em in the body." Pass-rushers don't need prototypical size ...
December 8, 2016
For a handful of NFL teams, the playoffs are already out of reach, and they're now looking toward the offseason for ways to improve.  All is not lost, because a handful ...
December 6, 2016
Crunch time is now upon the NFL.  Four weeks remain with at least 20 teams still in the playoff mix. The final quarter of the season will determine the league's best ...
December 4, 2016
Is Baltimore Ravens quarterback Joe Flacco elite? This question is often sarcastically posed on social media to point out Flacco's inconsistencies even though he's shown flashes of brilliance throughout his career. ...
November 29, 2016
To coach, or not to coach, that is the question.  As the NFL enters the last leg of the 2016 campaign, all the coaches around the league have one of two ...