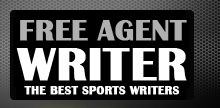 Yankee Addicts
Categories
Featured Sponsors
News published by
November 22, 2016
Life is good for 13 teams. After 11 weeks of play, the NFL's best consists of a baker's dozen that managed a winning record. These franchises are positioned well since 12 ...
November 15, 2016
Even the mighty New England Patriots with quarterback Tom Brady at the helm aren't unbeatable.  Just when everyone seemed ready to hand Bill Belichick and his crew the Lombardi Trophy, Pete ...
November 11, 2016
The Minnesota Vikings placed quarterback Sam Bradford in an impossible situation.  When the organization traded its 2017 first-round pick and a 2018 conditional fourth-round draft selection to the Philadelphia Eagles in ...
November 8, 2016
NFL parity is dead. Long live parity.  The New England Patriots are the league's best team, while the Cleveland Browns and San Francisco 49ers are by far the worst.  Everything between those ...
November 3, 2016
A sense of accomplishment can't be developed when an individual's journey isn't complete. But those same individuals can still take pride in how far they've traveled to reach their destinations.  With ...
November 1, 2016
Winning NFL games isn't easy, but some teams make it look much easier than others. It's not a coincidence those franchises feature the league's best head coaches. Currently, nine teams have a ...
October 28, 2016
For some NFL organizations, their never-ending search for a franchise quarterback is more daunting than Frodo's trip into Mordor. At least the hobbit achieved his goal, whereas there are certain ...
October 25, 2016
Week 7 is crucial in the NFL despite not being a true season landmark. It's easy to break up each campaign into quarters. However, statistics show a team's season is ...
October 18, 2016
As the 2016 NFL season creeps toward the halfway point, this is when the league's best coaches differentiate themselves due to circumstances out of their control. Injuries are a part of ...
October 14, 2016
Football isn't unlike boxing. For every punch, there is a counterpunch. The fullback position can serve as a knockout blow if properly used.  Greater fullback usage is a natural reaction to the NFL's ...