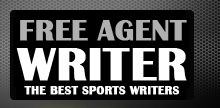 Yankee Addicts
Categories
Featured Sponsors
News published by
April 21, 2011
ESPN Working On A Quarterback Power Ranking This is your chance for your voice to be heard because the Internet does not allow anonymous posting by people using clever handles and ...
April 21, 2011
Cleveland Has A Need For A Good Pass Rusher Robert Quinn was given the 2010 college football season off by the NCAA for reasons not even worth mentioning at this point, ...
April 21, 2011
The Titans Could Take Kaepernick In Second Round The Tennessee Titans need a quarterback and there is a chance they may not get Cam Newton or Blaine Gabbert in the first ...
April 21, 2011
NFL draft rumors are blowing up all over the place as the national sports press turns into the British tabloids in regards to this year's draft prospects. Nowhere is that more ...
April 20, 2011
Seattle Is Looking To Repeat With This Schedule The Seahawks hope a schedule that begins with the 49ers ends in a Week One victory before having to face the Steelers in ...
April 20, 2011
Quarterback Questions Keep Titan's Schedule A Big Question The Titans schedule shows they open at Jacksonville, but then they do not see the Jaguars again until the last week of the ...
April 20, 2011
The 2011 NFL schedule is out, and now we can see what each team will have to do to get to the Super Bowl. Some teams have it easier than others, ...
April 19, 2011
NFL Schedule 2011: The Packers Looking To Repeat With First Week Victory The Green Bay Packers will be playing the Thursday night opening game this season, but their opponent remains a ...
April 19, 2011
The 2011 NFL Schedules will be released tonight, and this is your one-stop shop for speculation on the 2011 season (assuming there is one). Expect humor, baseless accusations, predictions that will ...
April 19, 2011
Newton Fumbles Snap Count With Gruden Jon Gruden's Quarterback Camp segment on ESPN is "must see TV" if you are interested in the NFL Draft, or if you are a fan ...