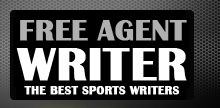 Yankee Addicts
Categories
Featured Sponsors
News published by
February 6, 2013
NFL free agency is quickly approaching and the Cleveland Browns are one of many teams that will be actively searching for new talent that can help them return to the ...
July 25, 2012
The Cleveland Browns made headlines on Tuesday afternoon as team reportedly agreed to terms with their quarterback of the future, Brandon Weeden. The deal is reportedly worth a little more ...
April 4, 2012
The 2012 NFL Draft is quickly approaching, and the Cleveland Browns are keeping busy by hosting some of the top talents in this year's draft class at their team facility.Former ...
April 26, 2011
NFL draft experts all around the nation are completing their final attempts at mock drafts and carefully placing their selections on their own personal big boards.For the Cleveland Browns, the ...
April 21, 2011
The Cleveland Browns quarterback rumors are swirling yet again, as the team held a private workout with former Iowa Hawkeyes quarterback Ricky Stanzi on Wednesday. Stanzi is ranked as the ninth ...
April 18, 2011
The 2011 NFL Draft is only two short weeks away and it is time to take a look at some of the best draft prospects coming from the smaller football ...
April 14, 2011
Much of the 2011 NFL Draft hype surrounding the Cleveland Browns is based off of which prospects the team may acquire in order to help their new and improved defense ...
April 11, 2011
According to a report posted on the National Football Post on Saturday, the Cleveland Browns held a private workout with Will Rackley from Lehigh University of Pennsylvania.Rackley is a projected ...
April 10, 2011
The 2011 NFL Draft is just three short weeks away and experts around the nation are continuing their quest for a perfect NFL mock draft. This mock draft attempts to ...
April 7, 2011
The Cincinnati Bengals franchise has been in limbo since Carson Palmer threatened to retire rather than play for the team next season.The Bengals have been persistent with their statements that ...