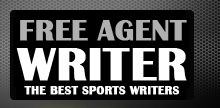 Yankee Addicts
Categories
Featured Sponsors
News published by
April 5, 2011
Peyton Hillis has accomplished some amazing things in his short time with the Cleveland Browns. Now, the "Albino Rhino" is making national headlines as he has advanced to the third ...
March 24, 2011
Carson Palmer has become one of the hottest NFL stories during the Spring months as his ultimatum of "trade me or I retire" has the Cincinnati Bengals scrambling.The Bengals have ...
March 24, 2011
Josh Cribbs was once one of the best return specialists in the entire NFL and his eight career returns for scores is among the best that professional football has ever ...
March 16, 2011
The Seattle Seahawks are one of the many teams around the NFL that will head into the summer months with some significant questions surrounding their roster and game plan.With Matt ...
March 16, 2011
The Cleveland Browns will reportedly work out Von Miller in the coming weeks as the team prepares for the NFL Draft on April 28th. Miller is scheduled to meet with ...
March 14, 2011
The Cleveland Browns are working hard as the team is trying to get everything in order for the NFL Draft set to begin the last weekend in April. Mock draft ...
March 7, 2011
The Cleveland Browns have had their fair share of woes at the wide receiver position over the last two years and the new leaders of the franchise seem to be ...
March 3, 2011
The Cleveland Browns are well into the rebuilding process and have already cut five players in anticipation of this year's draft and free-agency periods.The Browns have a new coaching staff ...
February 28, 2011
The NFL labor negotiations are being felt all around the league but may be slightly more evident around the Cleveland Browns' training facilities than in other places. In interviews held ...
February 17, 2011
The Cleveland Browns enter the 2011 NFL Draft process looking to address some team-specific needs and improve their team in many different areas.The NFL Combine is a good time to ...