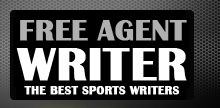 Yankee Addicts
Categories
Featured Sponsors
News published by
April 22, 2011
Players Union Seeking Transparency in Labor Negotiations The NFL owners are unwilling to open up their books to the players union. The current chip under negotiation is an $800 million one that ...
October 18, 2010
In what turned into a one-way defensively dominated game, the San Francisco 49ers showed a vision of what Mike Singletary wants them to be. Alex Smith only had one job today, ...
September 11, 2010
Vernon Davis is coming off of a career year and has just signed the contract extension to prove it. On the eve of the 2010 regular season, the 49ers made Davis ...
September 11, 2010
I Love... no.... LOVE the preseason.For me it's like college football but way better.   On the eve of the start of the 2010 season, let's take a look at the ...
September 9, 2010
It's time to get real 49er fans.  When the hype hits the fan, who is left standing as the key contributors on the team?It's time to look at the 5 ...
August 19, 2010
The AFC West is going to see a power shift and it's going to start happening soon. The Kansas City Chiefs made the steal of the NFL Draft by getting Eric ...
August 16, 2010
One thing that is true about today's NFL is that you can't have enough running backs.  The Saints, the current champion, effectively used three backs who can run, catch, block, ...
May 4, 2010
Patrick Willis will be the last San Francisco 49ers to ever wear the No. 52. P-Dub signed a five-year, $50M contract ($29M guaranteed) today, which will keep him in red ...
April 23, 2010
The 49ers filled another need with the Best Player Available at the 49th pick. Taylor Mays is a solid second round pick and adds a second big hitter to the starting ...
April 21, 2010
With QB being a big question for the San Francisco 49ers coming into the season, a trade for Ben Roethlisberger would no doubt return the 49ers to glory. Sure, Big Ben ...