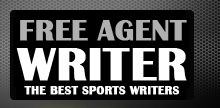 Yankee Addicts
Categories
Featured Sponsors
News published by
December 4, 2011
Coming off a 25-20 loss to the Oakland Raiders, the Chicago Bears will host the Kansas City Chiefs, who themselves are coming off a 13-9 loss to the Pittsburgh Steelers.The ...
December 4, 2011
The Chicago Bears began life without Jay Cutler the hard way with a loss to the Oakland Raiders.  If anything, that loss showed them what they can and cannot do ...
November 19, 2011
The red hot Chicago Bears, coming off of a big 37-13 win over division rival Detroit, will host the San Diego Chargers, who are coming off of a 24-17 loss ...
September 11, 2011
Depending on how you look at it, the Bears have had an "interesting" preseason so far, but don't let any of their failings there get you worried about the upcoming ...
July 16, 2011
Have you ever wondered how some of the trades in the NFL that started out small and ended up being very big began?  Have you ever wondered just how some ...
April 23, 2011
As the NFL and Player's Association brought their arguments to federal court, there are some that feel that this move might bring football back to normal much sooner than later.  ...
April 22, 2011
Depending on who you listen to, it's been said that former Texas Longhorn's cornerback Aaron Williams could go anywhere from the late first round, to the early second round in ...
April 22, 2011
The 2011 NFL Schedule is out and people are talking up many of the games on the schedule.  It's nice to be able see what teams the Bears are going ...
April 13, 2011
Having mocked some of the offensive line possibilities for the Bears in the 2011 NFL draft, I thought that it was time to take a look at the defensive tackle ...
April 8, 2011
Anyone who is a Bears fan knows that Chicago's greatest need heading into the 2011 NFL Draft is on the offensive line and all three positions desperately need an upgrade.  This ...