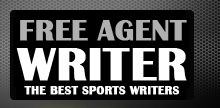 Yankee Addicts
Categories
Featured Sponsors
News published by
April 4, 2011
It's been a while since the Bears have had a first round pick (thanks to the Jay Cutler trade) so we may have forgotten just what it's like to live ...
April 3, 2011
Imagine what it would be like in a perfect world where everything you thought your favorite team should do, they actually did.  Take the Bears for example.  Everyone knows that ...
April 1, 2011
It's draft time, and things are moving a little slow with the NFL ownership and the players association failing to have come up with an agreement to let NFL operations ...
March 20, 2011
It's hard to find anyone who doesn't say that Clemson's Da'Quan Bowers isn't the best defensive end coming into the 2011 NFL draft.  He's been productive, he's been relatively healthy ...
March 11, 2011
The Bears have prided themselves in having good special teams play and it's been an emphasis on the team ever since head coach Lovie Smith came to the Bears.  Under the ...
March 7, 2011
The Bears made some moves recently that sent three players packing (defensive end Tommie Harris, linebacker Hunter Hillenmeyer and offensive tackle Kevin Shaffer). With that they will need to reanalyze ...
March 2, 2011
There may not be too many people who are aware of exactly what happened with former North Carolina Tar Heels defensive end Robert Quinn.  His problems first began when he was ...
February 23, 2011
There is hardly anyone out there that feels that the Bear's offensive line isn't their most important position of need heading into the 2011 NFL Draft.  The writing was clearly ...
February 21, 2011
Chicago's linebackers had a rough start to the season in 2009 as both Brian Urlacher and Pisa Tinoisamoa went out early (Urlacher for the year and Tinoisamoa for what basically ...
February 18, 2011
The Chicago Bears fan nation was shocked to learn that former Bears safety Dave Duerson was found dead in Miami on Thursday night.The cause of death is not known at ...