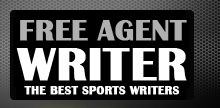 Yankee Addicts
Categories
Featured Sponsors
News published by
June 3, 2015
There's not a position on the Philadelphia Eagles roster that has undergone more dramatic changes during head coach Chip Kelly's three offseasons than wide receiver has. During Kelly's rookie season in 2013, ...
March 28, 2015
In 2013, the Philadelphia Eagles finished with a 10-6 record, winning seven of their final eight games to capture the NFC East title in Chip Kelly's rookie season. They exceeded ...
March 25, 2015
If the last few weeks have shown anything about Eagles head coach Chip Kelly, it's that he's not afraid to make a bold move if he feels it helps his ...
March 8, 2015
The Philadelphia Eagles pulled off one of the most shocking trades in recent NFL history Tuesday evening, as the Eagles sent running back LeSean McCoy to the Buffalo Bills for ...
February 28, 2015
The Philadelphia Eagles released the longest-tenured member of their team today, as right guard Todd Herremans' time in Philly came to an end after 10 seasons. Herremans, 32, was scheduled to ...
February 7, 2015
Expectations among Philadelphia Eagles fans heading into the 2014 season were pretty high. After all, who could blame them? Just look what Chip Kelly accomplished as a rookie head coach in 2013. After ...
October 29, 2014
Despite their 5-2 record and the fourth-highest scoring offense in the National Football League, it hasn't exactly been a smooth ride for the Philadelphia Eagles this season. In particular, quarterback ...
September 24, 2014
Three games into the season, the National Football League has experienced way more than its fair share of wacky unexpected moments. Most of the news generated around the league seems to ...
July 20, 2014
There are about a dozen players in the National Football League who could retire now and earn enshrinement to the Pro Football Hall of Fame in their first year of ...
June 14, 2014
There's less than three months remaining until the start of the 2014 NFL season for the Philadelphia Eagles, a year in which the Eagles will look to defend the NFC ...