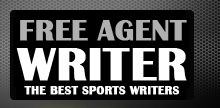 Yankee Addicts
Categories
Featured Sponsors
News published by
May 28, 2014
The entire Philadelphia Eagles team had a breakout year in 2013. That's hardly an exaggeration.  After winning just four games in their final year under Andy Reid, Chip Kelly led the ...
April 12, 2014
One of the hardest things for an NFL player to do is finish his career. Players rarely get to go out with a storybook ending, a la John Elway with ...
March 29, 2014
It's over. The Philadelphia Eagles have finally released DeSean Jackson, ending the wide receiver's tenure with the team after six seasons. The veteran playmaker is now a free agent who ...
March 26, 2014
For the most part, the Philadelphia Eagles are finished with free agency. Their main focus right now is on the NFL draft, which is just six weeks away. Oh, and ...
March 12, 2014
The first day of free agency is likely over for the Philadelphia Eagles. To the surprise of many, it was a relatively quiet day for Howie Roseman, Chip Kelly and ...
February 26, 2014
College football players across the nation came to the Scouting Combine looking to showcase their skills in a variety of athletic events for both speed and strength. But for the ...
February 12, 2014
Oh, how things have changed. Just a year ago, Matt Barkley was viewed by many as a potential No. 1 pick in the 2013 draft. But he suffered through a disappointing ...
January 22, 2014
It's going to be pretty hard for the Philadelphia Eagles to top what they did offensively during the 2013 season. Despite some midseason struggles and a quarterback change, the Eagles ...
January 22, 2014
Only the most optimistic Eagles fans expected the team to compete for a postseason spot during the 2013 season. After all, the Eagles had finished 4-12 the previous year, at one ...
January 5, 2014
The New Orleans Saints collected their first-ever postseason victory on the road, beating the Philadelphia Eagles on a walkoff field goal. They will travel to Seattle to play the Seahawks ...