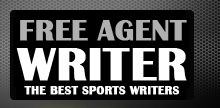 Yankee Addicts
Categories
Featured Sponsors
News published by
November 20, 2010
So many of the Seattle Seahawks faithful believe that local University of Washington quarterback Jake Locker is the answer and future of this great organization. Locker has even been toted by ...
June 9, 2010
So there have been many rumors floating around the Internet for the past months about the release of Seattle Seahawks linebacker Leroy Hill. Hill was just getting over a marijuana ...
May 28, 2010
The recent release Seattle Seahawks runningback Lendale White was nothing short of surprising. The newly acquired runningback was in fantastic shape, still had his youth, but what went wrong? John Schneider ...
May 16, 2010
I was thumbing through some Seattle Seahawks Web sites and got caught up in an article on Fieldgulls.com. It was about a 6'1" WR named Victor James that Seattle just ...
April 30, 2010
With the 133rd pick in the draft the Seattle Seahawks selected safety Kam Chancellor. Here are the comparisons of Taylor Mays and Kam Chancellor. The Virginia Tech safety was the "rover" ...
April 17, 2010
John Skelton is by far the gem of this years draft. The 6'5" Fordham product has produced over 9,900 yards of passing and 69 touchdowns in the last ...
April 8, 2010
Well, here we go Seahawk fans with another focus on Clemson running back C.J. Spiller. But this time I will have film of the "Great One." I wrote an article about why ...
April 2, 2010
  Countless Seahawk fans have felt that the Seattle Seahawks need to draft an offensive play-maker in the NFL. I do not disagree at all. The fact that a 5'8'' running back named ...
March 25, 2010
I have heard so much about this coming draft relating to the Seahawks and who they should draft. Well, here is my question to you, my fellow Seahawk fans. What will we ...
March 24, 2010
On Jan. 11, 2010 Pete Carroll stepped down as the head football coach of the USC Trojans. Pete Carroll has been a NFL coach and head coach as well as ...